Become member in "PPAF e.V" and become an ambassador for the Pacific People.
You support the people
to help themselves.
Every donation gets to
almost 100% to the
people on location.
Please complete the form
for your
membership
today.
VR 336 Amtsgericht Crailsheim, Spendenbescheinigung Befähigung:
FA Schwäbisch Hall vom 19.01.2010
---
BANC ACCOUNT:
Sparkasse Schwäbisch Hall-Crailsheim
Spenden-Konto: 1810 158
BLZ: 622 500 30
IBAN: DE96622500300001810158
SWIFT-BIC: SOLADES1SHA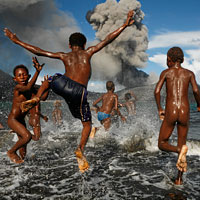 This is Ulla Lohmann, Film and Photo- journalist, who works for clients such as National Geographic, Discovery, BBC, GEO and the French TV. She is greeted by her friend Tom, the chief of Yakel, a village on Tanna Island in Vanuatu: Pacific meets Europe. This image does not only represent their happiness of reunion, but also the extraordinary relationship, which Ulla maintains with many people in the South-Pacific.
I made this image whilst I was with Ulla on the volcanic Island of Tanna, where people still life in a barter system.
Ulla fells obligated, to give something back to the people who gave her access to their lives and who taught her many things. She supports them with tools and things, which can't be bought, or have to be bought with money- which these people don't have or have very little. In these South Pacific Islands, there is very little infrastructure, no roads, jobs, or hospitals. There is no electricity, and if any, only via generator, and fuel has a prohibitive price. Ulla helps on location with small things of daily life and with solar power. For example with solar lamps and solar torches, or with solar panels, to power radios and mobile phones, both which can safe live in case of a natural disaster or an emergency. The region is known for its frequent earthquakes and tsunamis, and the people are defenseless without a reliable warning system and access to electricity. We also support the installation of a volcanic eruption warning system in Vanuatu. In Papua New Guinea (former German colony), we support coffee farmers in the Highlands, to farm their coffee, to become certified as organic coffee and to market it. We help to maintain access roads to guarantee a reliable transport.
Please, help Ulla with her warmhearted contribution and give her your hand.

Only five Euros – once or every month- can go a long way.
I personally guarantee you, that the money arrives to a 100% in the Pacific and is used in a sensible way to support the Pacific People.
Sincerely yours, Guy M. Y. Ph. Franquinet
The people in the Pacific will thank you!